Spradley Barr Ford Ft. Collins is the Only Place to Go for Ford Service in Fort Collins, Windsor, Wellington or Loveland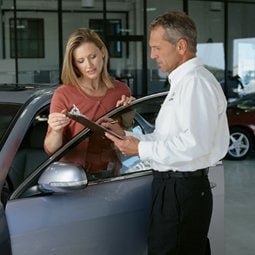 You've always relied on Spradley Barr Ford Ft. Collins for a top-quality new Ford model or used car.
You probably don't look forward to bringing your car in for its oil change or tire rotation, but that's okay. Many of our customers feel that way because doing this can sometimes feel like an interruption to your daily life, but with our customer-friendly atmosphere, you'll feel at home while you wait for your vehicle. Our dealership knows that in order to help our customers receive the quality care their vehicle needs, we need to create a waiting area that is inviting for adults and kids alike, which is why you can enjoy comfortable couches and a computer lounge while your car, truck, or SUV is having its brakes done. Got kids? Don't worry about keeping them entertained, lest they suffer a meltdown in public. Our dealership boasts a children's playroom that can help take the edge off while you enjoy the free Wi-Fi.
But What About My Car?
Don't worry, we haven't forgotten about your Ford F-150, Explorer, Edge, Focus, or Fusion. Our team is staffed with Ford-trained technicians who know your vehicle inside and out while using only OEM-approved parts on your vehicle for the right fit every time. We wouldn't put small car parts on your big truck, so why would we settle for aftermarket parts? At our dealership you can be certain you are receiving the right kind of care for your exact vehicle trim, engine specifications, and more.
Setting up an appointment is easy and can be done 24/7 through our useful online scheduler, giving you the opportunity to take advantage of one more convenience feature from the comfort of your home. Regardless of whether your Ford car, truck, or SUV was purchased or leased with us or at another dealership, we are ready to take over the care of that vehicle to help improve its performance. It's proven that your vehicle will lead a better life if taken care of properly, so why not let us help you make that happen? Visit us or contact our team today to set up see what we can do for you.
The fact is that routine maintenance is the only way to ensure that your car performs safely and efficiently every day. Our Service Center is equipped to provide essential maintenance procedures such as oil change, brake repair, tire rotation, transmission service, engine tune-up and much more. Of course, we provide quality assurance and extended warranty coverage for genuine parts and services performed on your vehicle.
Now, are you ready to receive the best automotive care in Fort Collins? Then, just take a moment to schedule a service appointment online before bringing your car into Spradley Barr Ford Ft. Collins's service center. We'll take it from there!